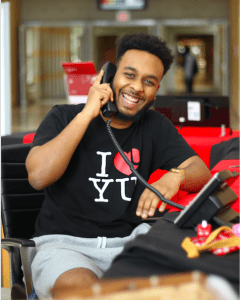 The RED Zone aims to support student transition into York University. We provide programming and orientation, in person and online support, and connect students to key resources.
During the summer, our main focus is to ensure a smooth transition for incoming students through our "York 101" pre-orientation program. York 101 is a session held for incoming first-year undergraduate students to learn about campus life at York. Incoming students will be paired with senior student leaders and discuss topics such as understanding university expectations, getting involved on campus, services on campus, orientation week and student finances.
Throughout the year, the RED Zone offers in person and online support, and if needed, connecting students to key resources on campus. Through training and their own university experiences, the RED Zone Ambassadors would be able to assist students and help locate the resource that will best fit for you. By visiting the kiosk at the centre of Vari Hall or contacting through our social media accounts, our ambassadors can help direct you with questions or issues regarding:
Financial inquiries
Academic inquiries 
Student account
Student clubs
College hosted events & affiliations
Orientation week
Parking and transportation
Campus jobs
YU-card
Ultimately, the RED Zone is here to ensure students are equipped with the necessary information for an easy transition and to ensure they get the most of out of their university experience.