WELCOME TO YORK'S RED ZONE!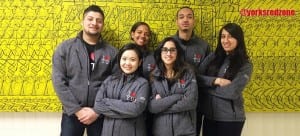 We are here to help York students Monday – Friday from 10am – 4pm in Vari Hall. Come say Hi to our very friendly student ambassadors.
We will be closed Today from 1-4pm and we will close again during the exam period starting Monday April 20th until Monday May 18th!
If you have any questions during this time, the SCLD front reception is happy to assist you! Please visit us at S172 ROSS South Building
RED Zone is a unit of SCLD. Wondering what SCLD is all about? Check out this video below: